A Whole
New

Way to Say

Thanks

Sometimes someone makes a real impression – the nurse whose skill and compassion helped you through your journey, the doctor who saved your life, or the person who gave you a smile and a kind word when you needed it most. Now there's a whole new way to say thanks!

Your donation to the University Hospital Foundation's Champions of Care program provides a personal way to say thank you to the person or team who made an impression.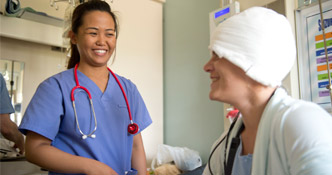 Say
Thanks
When you honour your
Champion of Care with a donation, you help put the latest equipment and technology in the hands of our expert medical teams – allowing them to change and save more lives.